4D number plates are the latest addition to number plate designs. They are made from 3mm and 6mm black precision laser cut acrylic characters, attached to our premium acrylic plates using high strength 3M adhesive. As a 4D number plate maker we know for a fact that the DVLA clearly states that 'number plates can be 3D and have raised characters'. Therefore 4D plates are fully road legal and made to British Standards (BS AU 145e). We're here for all your 4d licence plate needs.
Are 4D Number Plates Legal?
We often get asked various questions about the legality of 4D plates, for example "are 4d plates legal" and "are 4d reg plates legal", and the simple answer is Yes. 4d number plates are road legal! The DVLA states that characters must be solid black, which makes 4D number plates legal!  Our black acrylic characters have been designed and laser cut to match standard Charles Wright Font text. The number plate material that you add this text style to is made to the same British Standards (BS AU 145e) that all legal number plates must adhere to. Get in touch with Plate Boss today if you need any further information on how our 4D license plates are legal.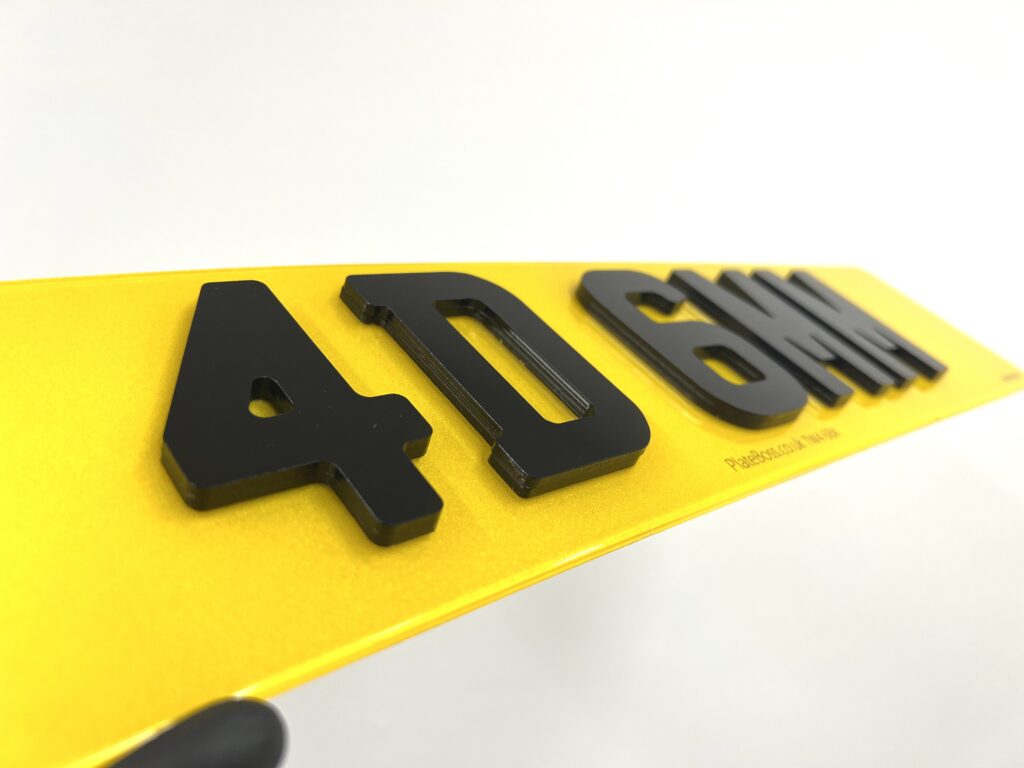 What are 4D Number Plates?
If you're thinking "what is a 4d number plate?", then the answer is simple! "4D plates" are the latest addition to number plate text styles and are completely road legal too. The new raised 4D plate style adds an even more personal and premium feel to your bespoke number plate design, adding an extra level of depth and shadow to your number plate.
What makes a number plate 4D?
As explained above, the term '4D' is just what the industry refers to them as, in order to distinguish between 4d plates and 3D Gel plates.
Do you offer 4D 6mm number plates?
Yes, as part of our selection of 4D acrylic number plates, we also offer 6mm 4D plates These consist of 2 3mm characters attached together using our high strength 3m adhesive.
Can I buy 4D matte number plates from you?
Yes, absolutely! In October 2022, we launched our awesome new range of 4D matte black plates, which are available in both the standard 3mm and 6mm 4D matte options too! These, combined with our other options such as short 4d number plates and gel 4d number plates, means that for the best 4d number plates around, you're absolutely in the right place. Order with peace of mind on www.plateboss.co.uk
What are 4D Neon Plates?
In the past, you have been able to add  a different colour to fit underneath the black acrylic. We call these 4D Neon number plates, which are referred to in other places as 4D Crystal plates.
These coloured number plates were incredibly popular for a time, particularly for shows and events. However these are no longer considered road legal and as a DVLA authorised number plate maker, we do not make 4d neon plates any more.
Are 4D neon plates legal?
We're often asked "are 4d coloured number plates legal?", and the simple answer is No!, 4D Neon plates are not road legal. So if you've seen some at a show or on another site and wondering "are 4D neon red number plates legal?", then no, unfortunately they are not!
If you're looking for 4D legal number plates, you can buy 4D number plates and select a number of other options, including borders, slogans and badges.
In a hurry? Then you can order 4d number plates with next day delivery with us too. Or alternatively you can come and collect your number plates from our store in Hounslow. You can also get your number plates made while you wait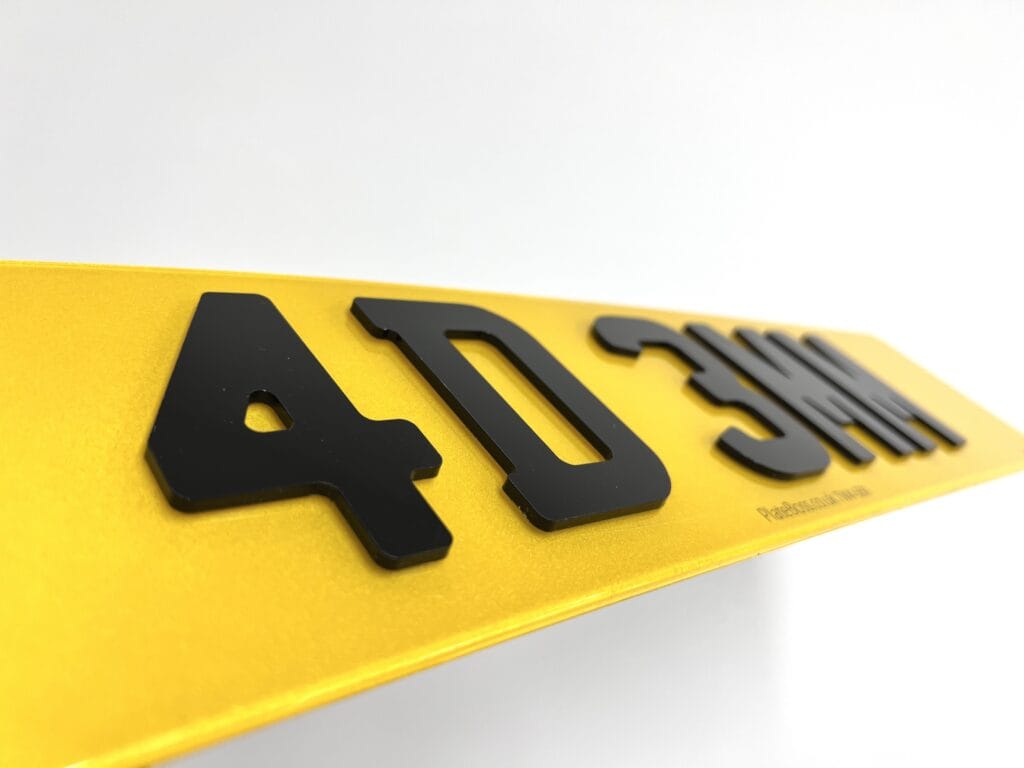 How much are 4D number plates?
The final cost of your order can differ depending on plate size and character thickness. The cost for a standard 4d number plate with 4D letters and numbers starts from as little as £30. When you add different plate materials, borders and badges this will increase and accordingly. If you're looking for cheap 4D number plates, then we always aim to be competitively priced but rest assured we never ever compromise on quality!
Can I buy 4D show plates online?
No. Show plates are illegal and any reputable number plate company will not sell these.
Why buy your 4d plates from us?
12 month warranty
Ultra-strength 3M adhesive backing.
Premium standard materials and service.
Customer Service team a phone call or whatsapp message away for any advice or questions you may have
Royal mail signed for shipping on all plates
Free delivery included on all number plate orders
Same say collection available too
The process of making these products is more meticulous than our other options. We have worked hard in our preparation to ensure your order of 4D car number plates will have no delays. And like our other products will be with you within 2 working days of placing your order, 24 hours if you want to upgrade your shipping at checkout.
If you would like to get in touch with Plate Boss about our collection of 4D reg plates and 4D Laser Number Plates – then drop us a message and we'll be happy to help you. Just click on the whatsapp icon on the bottom right of any page on www.plateboss.co.uk